This build thread will detail the building of a R/C static diving 1/40 scale U-Boat with working lights and sound.
Following my build and test bed for ideas detailed in my 'A Skipjack in Ireland' thread, I'm commencing a 1/40 (ish) U-Boat build using the old warhorse of a Robbe 1/40 'semi-scale' kit.......
..........long out of production, I found this perfect example on Ebay for 380 Euro.
Combined with a 900ml Engel Piston Tank and their Bayonet Lock with Accurate Model Parts decals and the Modellbau-Wikinger upgrade parts.....................
............ which includes scale decks, flood/drainage holes, conning tower, railings (Wintergarden), scopes, and a 'Tech Rack' designed for Engel internals (total 320 Euro).


Now before anyone chimes in with the comments about the Robbe U47 kit and it's flaws, let me quote from the staggeringly researched work

'The Wolf Pack: A Collection Of U-Boat Modelling Articles' free to download from:-



http://amp.rokket.biz/docs/the_wolf_pack_compr.pdf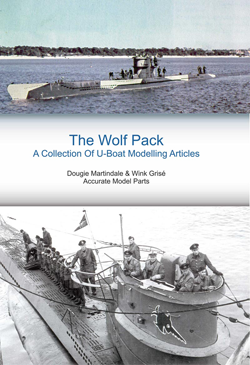 ''This semi-scale kit is an ideal starter kit for radio-controlled submarine modellers, and fulfils this

remit successfully. It bears a passing resemblance to its intended subject – the VIIB U 47 – but is

inaccurate in almost every respect to the real boat. This effectively precludes the building of an accurate

replica''

This is a harsh and mostly accurate verdict, however having built one of these kits into a fairly decent U-203 in 2006/2007, time has moved on and we have a huge amount of assistance from small suppliers with accurate upgrade parts. Also, this is the only large scale U-Boat I can get into my vehicle as it breaks into two smaller parts.

So I will be disarding the Robbe decks, tower, flooding slots, props, prop shafts, tech rack and other parts for better commercially available versions or scratchbuilt items.

Two major hurdles have to be crossed before I can begin, firstly choosing a boat from over 700 examples at an exact time period and trying to get a handle on the details contained in the above book. Using this source and other material I will narrow the choice over the next few weeks based on the available research and hopefully some good images of my chosen boat if discovered.

I expect I will need 18 months to 2 years to complete this project.

Secondly, as no good deed goes unpunished I recently fractured my hand helping my niece fix up her new house........
............so it's mostly parts acquisition and research for the moment!!!!
The Boattrainman