Good evening my fellow bubbleheads.
Tonight, Saturday, July 18, 2020, I came home to this package leaning up against my door: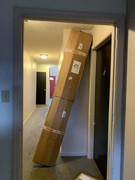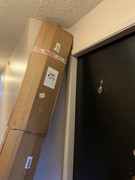 Inside was a monster sized, 1/72 scale Typhoon hull. Here are a few photos of this beast sitting out on my patio wall. He comes in at 8 feet in length.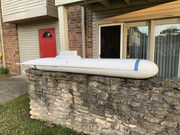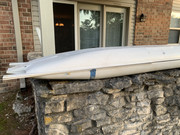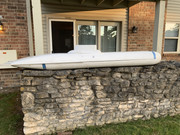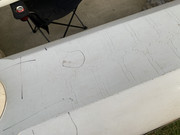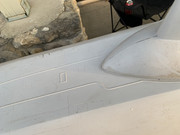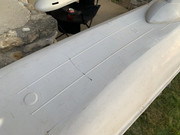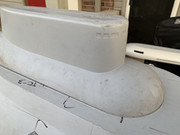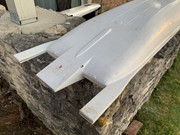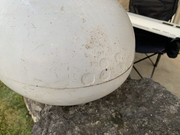 To get an ever better sense of scale, here he is compared to the Engel Typhoon, which is known as a beast itself: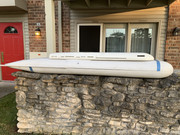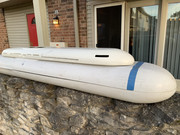 Like many of you, I constantly bounce around from project to project, from boat to boat, and more often than not failing to get as much done as you want to. With summer half gone already and the limited amount of fun runs happening this year, I've pretty much decided that no new boats are going to get done any time soon. The Carmel fun run always puts a lot of pressure on to get something new running in time. But that's no longer happening.
As such, and after tinkering with several boats over the past months, I've decided to whittle down my active projects to two: a 1/72 3D printed British Astute attack boat, which is printing now and has been for over a week, and then this Typhoon. I think I owe it to of boat of this size to give it everything I've got... to incorporate everything I've learned over the past 20 years in this hobby... and to make this my master stroke, so to speak.
My goals are lofty, but obtainable with work. The plans for this boat include:
1. Two 110mm OTW cylinders, each running its own prop, and connecting via plumbing the two ballast tanks for even distribution of air and water. Each cylinder will be lengthhy, most of them ballast.
2. Operational bow torpedos. I have a complete working system created and released a while back by DMIII. They are of the correct scale.
3. All missile hatches will be able to be opened, probably in groups, remotely.
4. At least two functioning missiles. I will be using nearly the same system that Kevin McLeod uses very successfully on his Kursk boat.
5. Bow thrusters, almost an absolutes necessity for a boat this large.
6. MP3 player and speaker system. Naturally, samples will come from Hunt for Red October :D :D
7. 3D designed and printed appendages, as this boat only comes with the sail, nothing else.
I'm sure more will come up as things progress.
As DMII always says, "Just build SOMETHING!". Well, this is my big 'something'.
Comments, thoughts, insights, help, criticism, whatever is welcomed and encouraged.
-erich